CHECK-IN | Begins at 3:00 PM
At check-in, guests will be asked to sign a registration card and be given the following:
Room key and bathroom key  (if applicable)
Access card - used for building access and dining meals
Complimentary SFSU pouch and lanyard to keep keys and access card together
KEYS AND GUEST CARDS
How to use the your access card:
To enter your building, simply swipe your access card through the reader located near the front door of the building.
To gain access to the dining center, present your access card to the front desk of the dining center.
All keys and access cards will need to be returned to the front desk upon check-out. 
FRONT DESK
Conference Associates (CA) are available at all front desks to assist guests with services such as check-in and lock-outs. CAs are also happy to recommend restaurants or fun sight-seeing opportunities in the Bay Area.
Hours of Operation
Towers at Centennial Square desk | 24 hours a day
All other community desks | limited hours of operation (hours will be posted at each desk)
CHECK-OUT | Before 11:00 AM
Conference organizers and chaperones should meet with their Summer Coordinator to schedule their check-out times and finalize procedures.
The night before check-out, guests will receive the following posted on their doors:
Notification of check-out instructions
Envelope to for key(s) and access card
Keys and access cards must be returned in the provided envelope to Conference & Event Services staff at the front desk during check-out. Failure to check out by 11 AM may result in an additional night's fee.
WI-FI
The facilities within the community are wired for Ethernet access and Wi-Fi, which are complimentary for all guests and visitors. Stop by the front desk for access codes and passwords.
LINEN PACKAGES
Conference groups can choose between housing with linens (additional fee applicable) or without linens. Daily cleaning of rooms and bed making is not provided.
Housing with Linen Packages
Linens will be placed at the end of each bed upon check-in and will be exchanged once (1) a week for those groups staying more than seven (7) calendar days. Please speak with your Summer Coordinator to coordinate exchanges.
Guests may request additional bed linens for an additional fee or may use the laundry facilities located in Mary Ward Hall, Mary Park Hall, Towers at Centennial Square, or the Village at Centennial Square.
What's Included:
Pillow (1)
Mattress Pad (1)
Linen pack includes (1) pillow case, (1) XL twin fitted sheet and (1) XL twin flat sheet
Blanket (1)
Bedspread (1)
Bath towel (1)
Travel size toiletries : (1) shampoo, (1) conditioner, (1) body wash, (1) facial bar and (1) body lotion
LOST KEYS & LOCKOUTS
If you lose or damage your keys or access card, please contact your Summer Coordinator to receive a replacement. A $55.00 replacement fee will be applicable. Payment must be received prior to receiving a replacement. Payment can be made at https://commerce.cashnet.com/CONFSV
Guests who lock themselves out of their unit, should go to the front desk of their respective building. If the front desk in your building is closed, please go to the Towers at Centennial Square front desk for assistance. The front desk staff will contact the Conference Associate on duty.
LUGGAGE ROOMS
Luggage rooms are secure locations where guest can store their luggage if they arrive prior to the 3:00pm check-in time or need to stay beyond the 11:00am check-out time. If you need to store your luggage in this room, please visit your community front desk. Someone from the Conference Services team will meet you in the lobby to unlock the room for you.
MAIL SERVICES
Mail is delivered Monday through Saturday (except for U.S. Postal Services holidays) to Mary Ward Hall (MWH). Your assigned Summer Coordinator will contact you by phone or email when letters or packages have been received for your conference participants. The nearest U.S. mailbox is on Font Boulevard between Mary Park Hall and Mary Ward Hall.
To ensure proper delivery, please be sure that your packages are addressed as follows:
[CONFERENCE NAME]
[YOUR NAME]
SF State University Conference Services
800 Font Boulevard
San Francisco, CA 94132
PARKING
All vehicles parking on campus must have a valid parking permit. Parking is enforced 24 hours a day, seven days a week, throughout the year. Conference groups bear the responsibility to provide their attendees notice of all parking regulations at San Francisco State University campus. For more information please visit parking.sfsu.edu/sfsu-parking.
ALCOHOL
Alcoholic beverages may not be consumed in public areas (any area outside of overnight accommodation).
Adult conference guests who are in possession of alcohol are not permitted to host individuals under the age of 21 in their units. Kegs and other similar over-sized "common source" containers are prohibited in and around the Residential Community. Possession of keg or cache of alcohol deemed "common source" may result in guest being removed from the residential community.
PERSONAL PROPERTY
The University does not assume responsibility for personal property of conference guests. Personal items left after the group's departure will be held by Conference & Event Services for up to five (5) calendar days. Personal items that are lost or stolen should be reported to SF State University Police Department non-emergency line at (415) 338-7200.
QUIET & COURTESY HOURS
Quiet Hours | begins at 11 PM Sunday-Thursday and 12 AM Friday-Saturday
Courtesy Hours | 24-hours/day, 7 days/week
SMOKING
In concert with all California State University campuses, San Francisco State University is a 100% smoke and tobacco free campus.  For more information please view Executive Order 1108, Policy on System wide Smoke and Tobacco Free Campus Environment. This supersedes Executive Order 599 and previous campus policies related to smoking and tobacco.
"Smoke and Tobacco Free" includes inhaling exhaling, burning, or carrying any lighted or heated:
Cigar, cigarette, cigarillo or pipe
Electronic cigarette (e.g. vapes)
Hookah
Other tobacco products (e.g. chewing tobacco/snuff)
Plant products (e.g. marijuana)
Synthetic products (e.g. synthetic marijuana)
Any component, part, or accessory of a tobacco product
SUPERVISION OF MINORS
Conference groups will be responsible for the supervision of their participants at all times and must provide live-in supervision for all minors associated with the group. The ratio of adults to minor participants follows the American Camp Association ratios:
5 years or younger | 1:5 for overnight camps, and 1:6 for day camps
6-8 years | 1:6 for overnight camps, and 1:8 for day camps
9-14 years | 1:8 for overnight camps, and 1:10 for day camps
15-17 years | 1:10 for overnight campus and 1:12 for day camps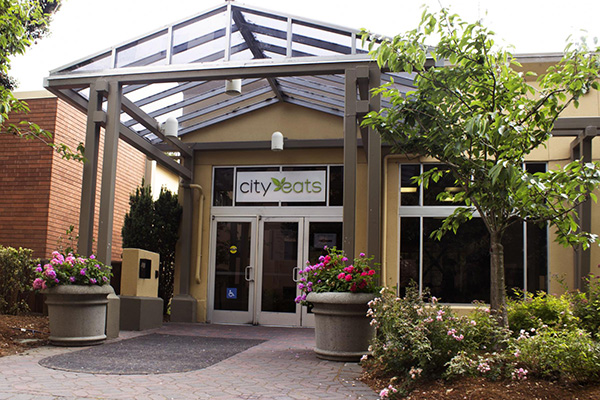 DINING FACILITIES
All meals are served in the City Eats Dining Center located directly across from Mary Ward Hall. All meals are prepared by our food service partner, Sodexo, and served as all-you-care-to-eat options. One meal per person per day is required for all conference groups residing on campus.
Hours of operation:
Breakfast 7:30 AM – 9:30 AM
Lunch  11:00 AM – 1:00 PM
Dinner 5:30 PM – 7:30 PM
Commuter Meals and Large Group Pricing
Please contact Conference Services at (415) 338-3972.
Take-A-Way Meals
Take-away meals or boxed meals are available upon request. Additional fees may apply with expansive menu options. Please contact Conference Services at (415) 338-3972 to obtain a request form. All requests must be received seven (7) calendar days prior to the requested service date.
Extending Dining Hours
Groups wishing to extend contracted serving times will incur a surcharge to cover additional labor costs.
All request are due to Conference & Event Services by no later than fourteen (14) calendar days prior your group's check-in date.