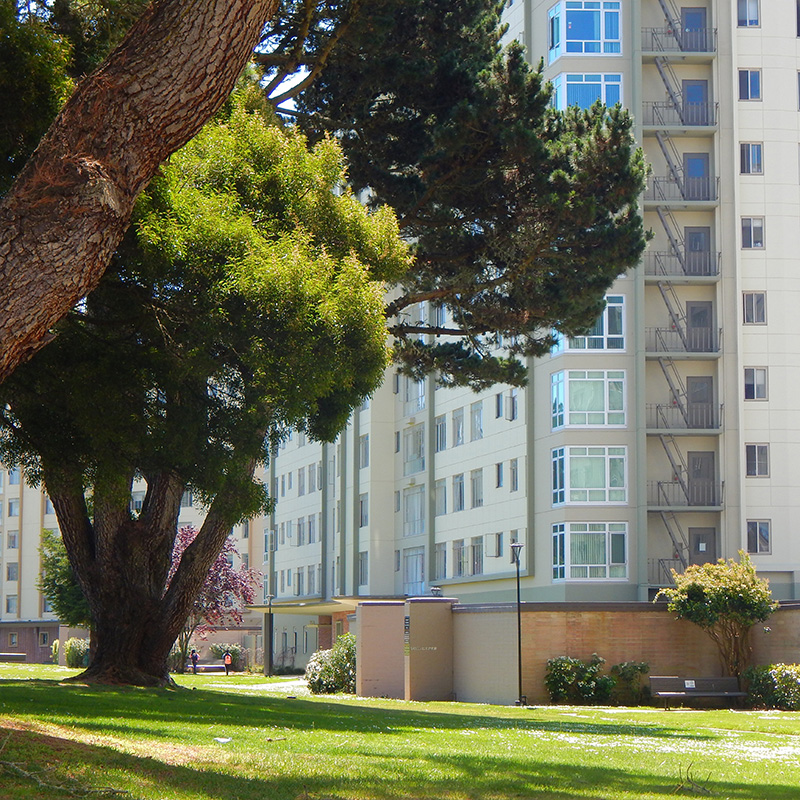 CHECK-IN | Begins at 3:00 PM
At check-in, guests will be given building and unit keys as well as a covered parking permit (requested ahead of time). 
Guests will also a receive a welcome packet that includes information about the apartment amenities, available services, getting connected to Wi-Fi, getting around San Francisco and more.
Your check-in location will be emailed to you prior to your arrival.
CHECK-OUT | Before 11:00 AM
Any guest wishing special consideration for a late checkout should inquire with Conference & Event Services on or before the actual arrival day.
Guest can leave their keys and parking permit (if applicable) on the kitchen table in the guest suite apartment.  A member of the housekeeping team will return the keys and permit on your behalf to Conference Services. 
When departing please make sure to check for personal items left in the closets, drawers and bathroom area. Please Note: Guests are responsible for damage to or missing items from suites.
LOST KEYS AND LOCKOUTS
If you lose your keys please contact Conference & Event Services to receive a replacement. A $55.00 replacement fee will be applicable. Payment must be received prior to receiving a replacement. Payment can be made at https://commerce.cashnet.com/CONFSV.
Guests who lock themselves out of their unit, should go to the front desk of their building. If the front desk in your building is closed, please contact Conference & Event Services.
PARKING
Each guest suite includes one reserved covered parking stall at the University Park North high rises. During check-in, guests will receive a parking tag inscribed with the stall number. A $100 fee may be assessed per lost parking permit. For guests staying longer than 30 days, a parking permit can be purchased for an additional monthly fee.
Street Parking | The parking permit provided at check-in does not allow for parking on the street in front of the University Park North high rises or anywhere on or around the SF State campus.  If a street permit is needed, please contact the Conference & Event Services for assistance.
Campus Parking | All vehicles parking on campus must have a valid parking permit, which are available for purchase from nearby pay stations. Parking is enforced 24 hours a day, seven days a week, throughout the year. Guests bear the responsibility to provide their visitors notice of all parking regulations at San Francisco State University campus. For more information please visit parking.sfsu.edu/sfsu-parking.
CANCELLATION
A 48-hour cancellation notice in writing (via email) is required.  If a reservation is cancelled less than 48 hours prior to the arrival day, a one night stay of $142.00 will be charged.
FORCE MAJEURE
In the event that CSU considers it necessary or prudent to cancel this rental agreement due to circumstances related to a pandemic, CSU may do so and be relieved of any further financial obligation, risk, or other liability by providing seventy-two (72) hours prior written notice of cancellation to guest.
LENGTH OF STAY
Reservations in the guest suite program can be made for up to 6 months. Faculty, staff and/or administrators who desire lengthier accommodations should contact the Employee & Family Housing at (415) 405-4000 or employee_housing@sfsu.edu for inquiries and assistance. Please Note: Guests that have occupied their unit for 6 months may not check out of their accommodations and check into another guest suite apartment to extend their duration within the program.
PAYMENTS
Housing, Dining & Conference Services (HDCS) will bill guests after the guest housing agreement has been executed. Please do not submit payment until an invoice for accommodations has been received. HDCS will bill the guest or campus supporting department or college. Payments can be made with a personal check, credit card, bank fund transfer or University transfer payment request.
If a University division or college is using the "transfer payment request" payment method, the chart-field string fields must be provided before the guest check into their guest suite apartment. Accommodations that are paid with personal funds must be secured with a valid credit card.
Payments received after five (5) days after invoice due date will be charged $100.00 late fee by the University.
Please Note: Credit/debit card payments (MasterCard, VISA, American Express, and Discover) are accepted through Conference & Event Services eMarket site (CashNet), which is a third party provider. A non-refundable service fee of 2.75% for each credit card transaction will be added to the total payment amount.  eCheck payments are free of any service fee. The cardholder, student and/or guest will see two transactions on their statement:  payment to the University and the service fee. Service fees paid through eMarket (CashNet) website are non-refundable.
PERSONAL PROPERTY
The University does not assume responsibility for personal property of guests or visitors. Personal items left after the guests departure will be held by Conference & Event Services for up to five (5) calendar days. If guests are unable to pick up their personal items, guests will have to provide a prepaid shipping for the items to be returned.
Personal items that are lost or stolen should be reported to SF State University Police Department non-emergency line at (415) 338-7200.
PURPOSE FOR ACCOMMODATIONS
The Conference & Event Services offers accommodations to individuals whose visits are educationally based or meet the mission of the University. To be compliant with state and federal regulations, the usage of the guest suite program for private use is prohibited.